Terengganu is located in the shoreline of Malaysia, rich and famous with its white sand beaches and handfull set of islands. Whoever come to Terengganu must be delighted with it's people, it's nature, heritage and mind relaxing atmosphere.
Among other things popular in Terengganu, of course it's famous
keropok lekor
. Made of fish fillet and cornstarch mixed together and rolled over and then cut to smaller roll. There are two types of
keropok lekor
which is stewed type and fried type. You can also fry the stewed one but the taste is slightly different than fried type of
keropok lekor.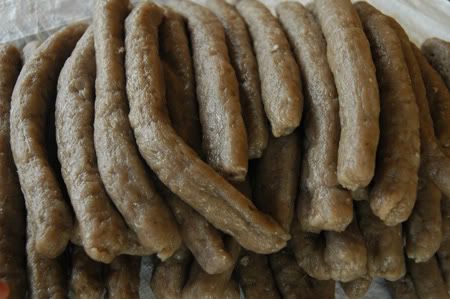 Fried type keropok lekor. Image source http://www.detikdaily.net/
First encounter with
keropok lekor
, you must be wondering how to eat
keropok lekor
. Here's a list of how you can eat
keropok lekor
:
1. Eat it a whole roll
This is an extreme way of eating
keropok lekor
. Most stewed type
keropok lekor
are sold in a roll of 250 - 300mm (10-12 inches). Take them out of their packages and bite them to the last
2. Cut into pieces, dip it with the homemade sauces
Every
keropok lekor
bought will be provided with a pack of red, not too spicy homemade sauces. Made without any artificial ingredients, a perfect companion to eat
keropok lekor
cut into small pieces.
3. Cut into pieces then fry them all
Keropk lekor stored in a freezer usually become harden and lost it's aroma. Revive them into their tasty state by frying them. A secret tips handed from generation to generation, when they float they are ready to be eaten. Make sure your cooking oil is sufficient enough to allow them float.
4. Fried type, eat it right away
Not much thing could be done with the fried type
keropok lekor
. Two words, eat them on their own or eat them together with fried rice or noodle.
If you come to Terengganu, make sure you visit famous places for their
keropok lekor
. Among all of them, listed the best of the best
keropok lekor
in Terengganu
1. Keropok Lekor 007
No affiliation with the famous James Bond. Located in Kuala Ibai, around Prinz Park Hotel and Terengganu Equestrian Resort. Ask the locals, everyone knows this place.
Coordinate :
2. Keropok Lekor BSN
Located about 4km from Terengganu Airport. Famously called as Keropok Lekor BSN(a bank name in Malaysia) because of it's owner initiative to use queue management system in his premise.
3. Keropok Lekor 008
Located in Kelulut, opposite of Kapas Island. No direct relationship with 007 one and still no affiliation with the famous James Bond
Coordinate :
4. Keropok Lekor Panas Sungai Rengas
Located in a suburb of Kuala Terengganu, this premise is slightly hidden from the main road but the folks here surely know where to find this place if you ask for keropok lekor selekoh sungai rengas
Coordinate :
Those 4 are best of the best keropok lekor in Kuala Terengganu and Marang area. More will be added to the list including on the other districts of Terengganu later. That's all for now. Bye